CosbkHome-D14
17.07.08
NOTE: THIS IS A DISCONTINUED PROJECT, but if you're clever with data structures, you can make documents that show the links.

TECHNICAL NOTE: the links are on an overlay across the entire screen. That's the trick.

Collaborator and programmer: Ian Heath, Southampton, England.

---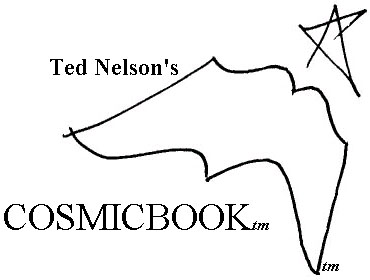 HYPERTEXT WITH VISIBLE LINKS
---

Welcome To CosmicBook.

Download the free reader hence. (Sorry, Windows only.)

A CosmicBook Flight is a set of pages with visible connections, as we've always advocated-- here's a simulation from about 1970.*

And-- as we advocated in 1970-- here's what Cosmicbook does--






---

* Theodor H. Nelson, "As We Will Think." Proceedings of Online 72 Conference, Brunel University, Uxbridge, England, 1972.

---

Collaborator and programmer: Ian Heath, Southampton, England.
•